BAILA DANCE for RESH ZUMBA & DANCE MEMBERS with DJ Andrew (Colombo) On 27th Saturday From 6pm to 8pm @ Resh Dance Studio. Ladies entrance free Gents Rs 500/

[justified_image_grid flickr_user=131553831@N04 flickr_photoset=72157652846177213]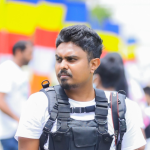 Buddika Roshan is the Co Founder at KandyZone. One of the main Photographer of the team. he studied at Vidyartha College, Kandy.